Description Casa Delphin

Photo gallery |

Site plan |

Inquiry & booking
---
Briefly:
Apartment complex, ground floor, with 2 bedrooms, approx. living space 65 m2, terrace, suitably for up to 4 persons. Specialties: Small and intimate complex with pool
Price: from 55,00 Euro per day (exact price information see below)
---
Description:
Casa Delphin is a newly built, intimate little holiday resort, consisting of four terraced bungalows. Each bungalow has 2 bedrooms and can thus comfortably house up to four people. There is a swimming pool in the common garden and one can reach the ocean and the tidal pool by foot at a distance of about 300 meters.

The light and friendly living room is equipped with modern furniture and is illuminated from two sides through the large terrace doors. Next to a cozy sofa corner with a satellite TV, there is also a dining table directly adjacent to the kitchen, which opens up to the living room. The kitchen is fully equipped with a dishwasher, washing machine, ceramic stove top, microwave oven, coffee machine, etc. There is a large double bed in each of the two bedrooms. The bathrooms are tiled in white and contain a bathtub in addition to a washing stand and toilet.

Each bungalow has a small sun terrace of its own, which is connected to the beautifully designed garden with the pool. There are restaurants and shops approximately 7 minutes by foot from the resort.

Bedlinen and towels are available and will be changed every week. We can arrange for you the transfer to and from the airport or as well organize the car rental for you.
Price
Rent per night 55,- eur, final cleaning 1 daily rent, from 21 days on final cleaning incl.
The prices mentioned apply per night for 2 persons. Any further person costs 10,- eur in addition.
---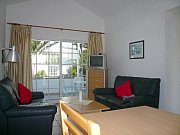 Living room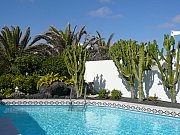 Swimming pool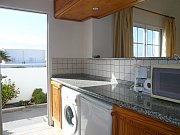 Kitchen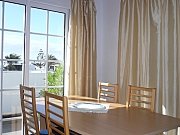 Dining table



Click the photos to enlarge them! More photos in the

photo gallery