Description Casita Luz

Photo gallery |

Site plan |

Inquiry & booking
---
Briefly:
Apartment complex, ground floor, with 2 bedrooms, approx. living space 55 m2, terrace, suitably for up to 4 persons. Specialties: A new apartment complex. Non-smokers!
Price: from 65,00 Euro per day (exact price information see below)
---
Description:
Casita Luz, a brand-new bungalow with two bedrooms, is a part of a complex with a total of 9 bungalows. The complex is arranged around a swimming pool that they share together. It takes 4 minutes to walk to the nearest bathing area at the ocean and the small Centro Comercial with its supermarket and restaurants are equally far away.

The living spaces are friendly and light and thus really live up to the name bungalow. It is furnished with new and modern furniture, giving the rooms a pleasant atmosphere. With their double beds, the two bedrooms provide space for up to four persons. The living room has a comfortable suite and a dining table for four persons, and of course there is satellite TV. In the white, tiled bathroom there is a sink, a toilet and a small bathtub. The kitchen, which is open to the living room, is equipped with everything one can desire during one's vacation, including a washing machine, a dishwasher, a microwave, a coffe machine, etc...

Both in front of and behind the bungalow there is a terrace, so that one always can find a pleasant place to relax. The community terrace, which adjoins the pool, also invites you to sunbathe.

Bedlinen and towels are available and will be changed every week. We can arrange for you the transfer to and from the airport or as well organize the car rental for you.

Price
Rent per night 65,- Euro, final cleaning 1 daily rent.
The prices mentioned apply per night for 2 persons. Any further person costs 10,- EUR in addition.
---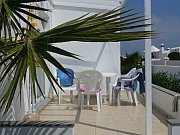 Terrace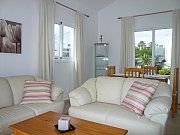 Salon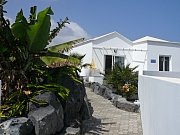 Exterior view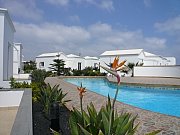 Swimming-pool



Click the photos to enlarge them! More photos in the

photo gallery