Description Cinco Torres 2 and 3

Photo gallery |

Site plan |

Inquiry & booking
---
Briefly:
House, ground floor and upper floor, with 2 bedrooms, balcony, suitably for up to 4 persons. Price: from 55,00 Euro per day (exact price information see below)
---
Description:
Cinco Torres is a small complex with 5 units of which only 2 are rented. The entrance is at ground level but because the houses are located on the hillside the ground floor (in the following called the lower floor) is nearly like an upper floor. From the balcony in this lower floor there is a staircase down into the garden.

In the same lower floor there is a roomy kitchen living with breakfast corner, small sofa, TV and stereo equipment as well as the bedroom and the bathroom.

By a spiral staircase you come into the upper floor where you will find a luxuriously furnished bedroom with a further TV and as well the second bedroom. In Cinco Torres 2 there is only a toilet in the upper floor whereas Cinco Torres 3 has another bathroom upstairs.

From all rooms you get on the balconies - one each floor. From there one has a very beautiful sight.

Bedlinen and towels are available and will be changed every week. We can arrange for you the transfer to and from the airport or as well organize the car rental for you.
Price
Rent per night 55,- Euro final cleaning 1 daily rent.
The prices mentioned apply per night for 2 persons, any further person costs approx. 10,- Euro per night in addition.
---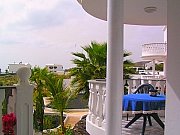 Lower balcony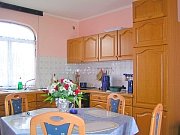 Kitchen living Cinco Torres 2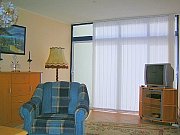 Upper living room Cinco
Torres 3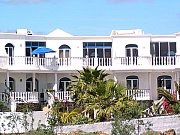 View garden side



Click the photos to enlarge them! More photos in the

photo gallery